Arizona Weapon Storage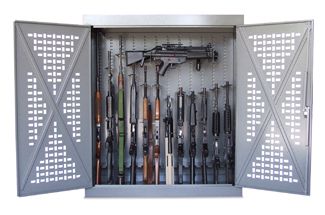 Arizona law enforcement offices and the military need to have the ability to safely secure weapons when not in use. AADS Office Solutions offers solid, high-quality weapon cabinets for storage of weapons. Every weapon storage cabinet that we sell is available with GSA pricing.
A benefit of the weapon storage cabinets that we sell is that they are customizable to effectively store weapons of all sizes. They can also be set up as a stand alone or on a high density mobile system.
Our weapon storage systems are designed to store rifles, shotguns, and handguns. You can store your weapons horizontally or vertically. Each weapon storage system has many components available that are securely attached to the interior walls. Your representative from AADS Office Solutions will help you in the selection of appropriate options. No matter how many weapons or how much evidence you need to store, we are there to customize the solution that works for you.
Benefits and Features of Weapon Storage From AADS Office Solutions
Our Universal Weapons Cabinets come with a great many valuable features and benefits valuable to Arizona police, law enforcement and military. They include:
Three Point Locking Mechanism
Made In the U.S.A.
All Steel Construction
Available in a Variety of Heights and Widths

Evidence

They Can Be Stacked, Side-By-Side or Back-To-Back
Flexible for Small Arms
Quick and Easy To Assemble
A Variety of Base Plates to Fit a Variety of Rifles
Can Easily Be Customized For Different Configurations
A Wide Variety of Additional Components to Handle Weapons of All Sizes
Can Be Secured Right to the Wall
Weapons Can Be Stored With Optics and Accessories Attached
All weapon storage have customizable features for the interior to safely and securely store weapons of all sizes. We can also create custom sized weapon storage cabinets to meet your specific needs. We can also provide you with secure lockers in a variety of sizes and configurations.
Contact AADS Office Solutions
The staff at AADS Office Solutions would be glad to answer any questions that you may have about the weapon storage systems that we have available to Arizona law enforcement. Call us at
1-800-927-6101
today to get more information. You can also reach us through the contact form provided below.